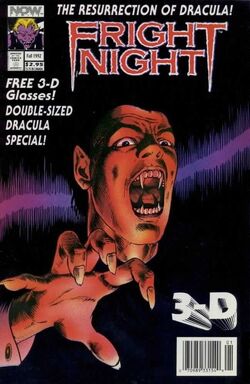 Fright Night 3-D Fall Special is a 1992 comic story released by NOW Comics.  It's a 3-D reprint of issues 16-17 of the earlier comic series.
Plot
[
]
Peter's enrolled into "The Institute for the Performing Arts and Expansion of the Subconscious," where he's been hypnotized into thinking he's Van Helsing. Charley and Natalia attempt to bring him back to reality by putting on a Dracula performance, but Evil Ed convolutes matters. In the second half, the experimental play has been a resounding failure, Natalia's life in jeopardy, her Aunt shows up to unmask the doctor as a fraud, and Peter 'Van Helsing' decides to save the day.
Credits
[
]
Notes
[
]
The centerfold is a two-sided 3-D pinup of the covers of issues #16 and #17.
External Links
[
]