Save Me Tonight
is a song by White Sister which appeared on the soundtrack for
Fright Night
.
Use in Film
Edit
Although the filmmakers planned to use the song in the movie, it didn't make it into the final cut. It is, however, cited in the film's end credits. Presumably it was intended to be used during the scene in which Jerry turns on a cassette tape and seduces Amy, but an instrumental version of Come to Me was instead utilized.
In addition to appearing on the soundtrack, the song was included on White Sister's 1986 album Fashion by Passion. Additionally, it also appeared as the b-side of the Until It Hurts 12" single.
Live Performances
Edit
Although there was no official music video for White Sister's Save Me Tonight, several live versions have been in circulation. A performance in Nottingham, England was included on the band's DVD Straight From The Heart: Live At Firefest 2008. This version is slowed down and includes a different intro and outro. The band returned to Firefest the following year and their very different performance was captured by a fan and uploaded to You Tube. This was to be White Sister's final performance, as two band members passed away soon after.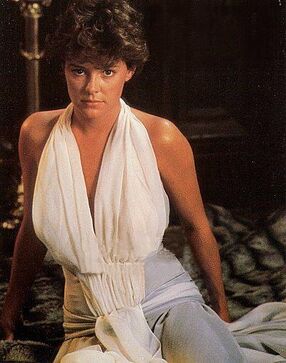 Written by Mitchell Leib and Garri Brandon
Performed by White Sister
I wake up at night and I'm screamin' out your name
Won't you come back, won't you let it be the same?
If I came by, could we sit and talk a while?
Has someone come along and changed your style?
And why can't you see all that you're doing to me?
I'm tied up in you forever this way.
I'm slipping, I'm slippin' away
Save me tonight, save me tonight
I'm reachin', I'm reaching for you
Save me tonight, save me tonight
Just keep me away from this heartache

Late at night, does he hold you like I would?
Does he make you feel much better than I ever could?
What's left to say that would make you understand?
My heart lies bleeding – don't leave me here the way I am!
And why can't you see all that you're doing to me?
I'm tied up in you forever this way.
I'm slipping, I'm slippin' away
Save me tonight, save me tonight
Just keep me away from this heartache
Save me tonight, save me tonight
You know I'm reaching I'm reaching for you
Save me tonight, save me tonight
Keep me away from this heartache

And why can't you see all that you're doing to me?
Oh, I'm tied up in you forever this way.
Save me tonight, save me tonight
I'm reachin', I'm reaching for you
Save me tonight, save me tonight
Just keep me away from this heartache
Save me tonight, save me tonight
You know, I'm reachin', I'm reaching for you
Save me tonight, save me tonight
Just keep me away from this heartache