• Fright Night Special Edition DVD petition...

http://www.PetitionOnline.com/fright85/petition.html

• Fright Night Part 2 Special Edition DVD petition...

http://www.PetitionOnline.com/fright88/petition.html
Tom Holland's original classic not having decent special features is a crime against humanity. The recent blu-ray was a limited printing and the only extra feature was an isolated soundtrack. Fright Night 2 is long out of print, hard to find, way too expensive and the image quality sucked. Countless other brainless and forgetable horror films of the era have been getting special edition DVDs over the years and the Fright Night films continue to be ignored. This is a disgrace. It's time rise up Fright Night fans, I urge you to sign these petitions started by 'Fright Night Focus.' Even Firght Night 2 has a worldwide cult following that is starved for this kind of release. Look at this fan made dvd boxart I stumbled upon on a French site: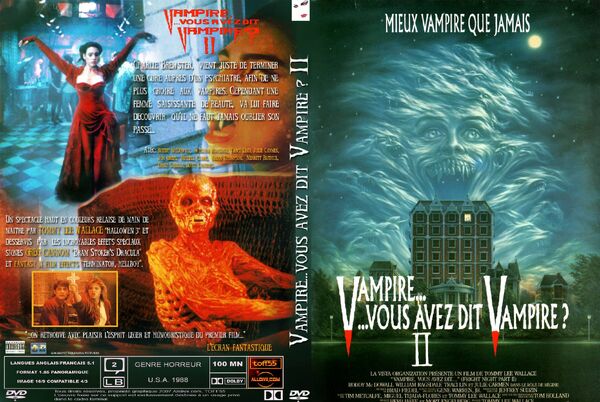 Send e-mails to companies like Shout Factory and Lions Gate demanding new DVDs for the classic Fright Night movies. Start forum topics about it on movie sites.
Features to demand
• Comentary tracks for Fright Night with Tom Holland, William Ragsdale, Amanda Bearse, Stephen Geoffreys, Chris Sarandon, Jonathan Stark and Dorothy Fielding
• Comentary tracks for Fright Night Part 2 with Tommy Lee Wallace, William Ragsdale, Julie Carmen, Traci Lind, Jon Gries, Brian Thompson and Ernie Sabella
• Retrospective documentarys for both films
• Tom Holland & Tommy Lee Wallace interviews
• Brad Fiedel interview on composing the scores for 1 & 2
• Cast interviews
• Interviews with SFX designers Richard Edlund and Greg Cannom
• Interviews with costume designers Robert Fletcher and Joseph Porro
• Interviews with cinematographers Jan Kiesser and Mark Irwin
• Interviews with FN2 writers Miguel Tejada-Flores and Tim Metcalfe
• Deleted scenes & bloopers for both films
• Any and all initial publicity featurettes for both films
• Anything else in the studio's archives
Community content is available under
CC-BY-SA
unless otherwise noted.